This store requires javascript to be enabled for some features to work correctly.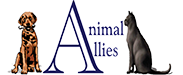 Charity spotlight
Animal Allies
Made of cotton canvas and filled with catnip

Approximately 3" diameter
Cat toys cannot be returned. All sales are final.
Catnip Toy orders will ship approximately 5-7 business days after placing your order. If your order also includes a backordered item, your order won't ship until all items are available.